A propos de l'auteur ItsSarah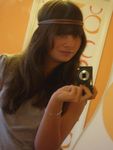 Site Web : http://twitter.com/ItsSaraah
Pays : France

Quelques mots sur moi
My name is Sarah. I'm 14. I live in France and French is my first language. I'm learning english so sorry if I don't speak really well !
Mes centres d'intérêt
I really love Disney stuff, like Teens disney or disney movies. My favorite Teen Disney is an ex-Teen Disney, it's Ashley Tisdale. I love Vanessa Hudgens, Miley Cyrus, Selena Gomez, Demi Lovato, Taylor Swift too, and I forget a lot of people !!
Mes musiques préférées
Boys Like Girls, The Academy Is ..., Cobra Starship, The Veronicas, Honor Society, KSM, Britney Spears, Justin Nozuka, Selena Gomez, Kelly Clarkson, Jordin Sparks, Kate Voegele, Katy Perry, Lady Gaga, Demi Lovato, Rihanna, Taylor Swift, The All American Rejects, Jonas Brothers, The Fray, The Script, Hedley, Jason Mraz, The Pretty Reckless, Plain White T's, Grease, Alicia Keys, Beyonce ...